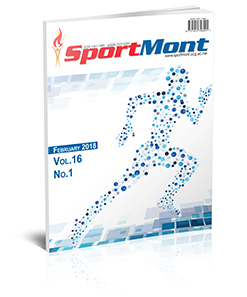 Dear Readers,
Sport Mont Journal was founded in 2003 and has a fairly long tradition. To this day, close to 1,000 scientific papers of researches from all continents have been published in it. These are mostly papers presented at the scientific conferences of the Montenegrin Sports Academy, which are traditionally held every year at the end of March or early April.
In 2016, the site of the journal was redesigned and a milestone was made, from which the journal will continue to grow and develop faster. Namely, the instructions for authors, design and structure were reformed and the decision to publish the journal three times a year (on February, June and October) with 10 papers each was made. Since that year, the editorial board has been strengthened, and this will be done continuously so the journal would grow constantly. Today, Sport Mont Journal is indexed into twenty two international databases, and it must be pointed out that, at the moment, it is also passing through the evaluation process in Scopus and the Web of Science database, and this process will be completed very soon.
For the October issue of 2017, a new journal cover page with a new logo was prepared. For the first time, each scientific paper has got a recognizable DOI number. Now, the magazine has two editor-in-chiefs, together with professor Dusko Bjelica who is performing this function from the very beginning, Professor Zoran Milosevic has been promoted. Significant changes were made on the Sport Mont Journala website. The last 10 published papers, which so far could only be found in the site archive, from now on will be contained at the home page of the site. Also, the statistic of the journal was introduced, where the latest statistical indicators can be viewed. The system of downloading papers in PDF format has also been redesigned, bar codes for each paper, citation data and number of downloaded papers have been introduced. Also, under each paper a discussion forum was introduced, where readers can post their comments and suggestions that can improve the quality of the journal.
We thank all readers of Sport Mont Journal and we are confident that this latest edition will be informative enough.
Editors-in-Chief
Prof. Dusko Bjelica, PhD
Prof. Zoran Milosevic, PhD
Current Issue